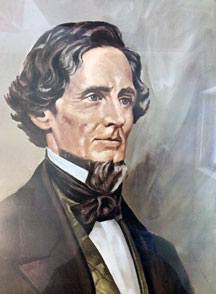 Chasing Jefferson Davis
Early on the morning of May 10, 1865, Confederate President Jefferson Davis was captured at his camp outside Irwinville by a detachment of the Fourth Michigan Calvary, who had pursued him into the heart of the Deep South. Davis had spent the evening of May 8, in Abbeville, a distance of almost exactly 26.2 miles from where he was captured. To commemorate this historic event, the counties and communities along the route will host the Annual Chasing Jefferson Davis Marathon on April 15, 2023.
About the marathon

On the 150th anniversary of the capture, the Inaugural Chasing Jefferson Davis Marathon was held. On May 9, 2015, marathon and half-marathon runners followed Jefferson Davis' historic route through farm land and pine woods and parts of three south Georgia counties in the first-ever Chasing Jefferson Davis Marathon. The Civil War Sesquicentennial event commemorates this closing event of the war that divided America from 1861-1865.The marathon course almost exactly follows the route of that historic journey at the close of the Civil War, with the participants finishing within feet of the actual site of the capture.

The route is almost exactly 26.2 miles. Roughly five miles of the course will be over dirt roads. The route is fairly equally divided among the three counties participating in the event.

The marathon is USATF Certified (GA15012WC). Further details about the race can be found on Facebook at the Chasing Jefferson Davis Marathon page.

This year, join us Saturday, April 15th for the Annual Chasing Jefferson Davis Marathon and Half Marathon. The point to point courses will be run on paved and dirt roads. The Marathon will be run from the Abbeville Historic Gymnasium, 300 College St., Abbeville, GA to the finish line at 338 Jeff Davis Park Road, Irwinville GA. The Half Marathon will start at 1018 Salem Church Rd, Fitzgerald, GA. and finish in the same location as the Marathon. The race will begin with cannon or musket blasts at 6:00 AM and 6:30 AM at each location for the start of the Marathon and Half-Marathon.

For a registration form, please click here.